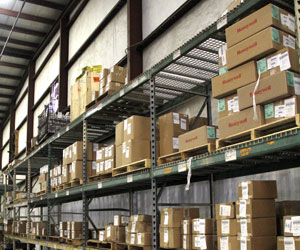 Warehousing
Arkansas Warehouse Inc. (AWI) is a third party logistics provider of contract warehousing. We operate over 500,000 square feet of warehouse facilities in Fort Smith, Arkansas. We warehouse finished goods as well as raw materials and our warehouses include dock high concrete and steel buildings with truck and rail facilities and we meet all guidelines for food grade storage at one location.
We currently work with a large number of national and international companies. In addition to warehouse facilities we offer a full complement of manufacturing support services. [Read more...]
Inventory Tracking
Experience Counts!
6 years of paper products – 3PL United States Distribution Center shipping to many grocery distribution centers.
We have operated a co-pack operation producing over 20,000 quick stock units.
We have received by rail, 3000 lb rolls of paper and delivered it on a daily basis.
We have more than 30 raw material consignment accounts. Each has just in time delivery daily.
We have warehoused raw materials, compressors and motors for the Whirlpool plant in Fort Smith for 16 years until its recent closing.
A number of national corporations have out sourced accessorial services to AWI. Our IT department functions currently in three separate and distinct systems. We have our own warehouse management system.
With over 16 years of experience, AWI is prepared to evaluate and resolve your various supply chain concerns. All AWI customers have access (24/7) to our online inventory management website for current updated product information.
Cycle counting
Our inventory control warehouse management system has handled more than 3400 stock keeping units for one customer
We operate several of our customer computer systems (SWAP, Oracle, WhereNet, Shiloh, PATS, & SAP).